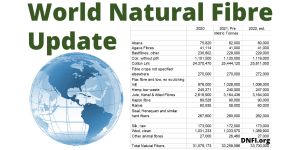 Depending on the continent and climate zone, natural fibers grow all year round. The dependence on local and global weather influences changes the quality and quantity of the fibers at the time of harvest or during and after cleaning and processing.
Geopolitical or regional events are other factors affecting the availability of natural fibers. In the case of statistical evaluations, it must be taken into account that some regional harvest periods also take place at the turn of the year.
World Natural Fibre Production in 2022 is estimated at 32.8 million tonnes, down 100.000 tonnes from the estimate at the end of September. Estimates of world natural fibre production for 2020 and 2021 have been revised downward based on new numbers for cotton, with production in 2021 estimated at 32.8 million tonnes, and production in 2020 estimated at 31.3 million.
Excerpt from the report November 2022:

…. cotton futures on the Intercontinental Exchange plummeted an additional 22% in October on top of a 28% …. The Eastern Market Indicator of wool prices in Australia rose 3% between …. World wool production is forecast up by 5% in 2022 to …. Prices of silk in China equalled US$27.2 per kilogram at the end of …. Coconut coir fibre in India quoted in US$ fell to …. World production of jute and allied fibres is estimated at 3.1 million tonnes in ….
Free Download of the full report: "DNFI World Natural Fibre Update November 2022"
Please note the download link send to you will automatically expire after one week.
---
DNFI members can access previous reports here: https://dnfi.org/dnfi-world-natural-fibre-updates/ 
The DNFI World Natural Fibre Update is provided by: Dr. Terry Townsend, DNFI Statistics and Data Analysis Expert.
---