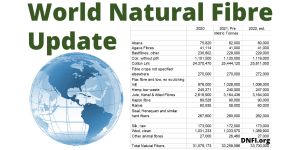 Depending on the continent and climate zone, natural fibers grow all year round. The dependence on local and global weather influences changes the quality and quantity of the fibers at the time of harvest or during and after cleaning and processing.
Geopolitical or regional events are other factors affecting the availability of natural fibers. In the case of statistical evaluations, it must be taken into account that some regional harvest periods also take place at the turn of the year.
World natural fibre production in 2022 is estimated at 31.6 million tons, down approximately 1.3 million tonnes from 2021. Based on high prices received in 2021, production in 2022 had been forecast to rise to approximately 35 million tons. However poor weather, especially drought in Texas, Bangladesh and India, and floods in Pakistan led to declines in cotton and jute production. Natural fibre production has not increased in the last two decades because yields have stagnated.
Most commodity industries, including those involving natural fibres, enjoyed a month without major disruption during February. There were no weather events significant enough to affect the world economy. No new wars began. Ocean freight rates declined during the month, although they remain above pre-Covid levels. While a world economic recession is still forecast sometime during 2023, consumer behaviour did not seem affected in February.
Excerpt from the four page report March 2023:

….The nearby cotton futures contract on the Intercontinental Exchange (March 2023) was down 2% …. The Eastern Market Indicator of prices for fine wool in Australia fell by …. Prices quoted by the Indian Jute Balers Association (JBA) at the end of January converted to US$ fell 3% …. Prices of silk in China were essentially unchanged during February at US$ …. Coir fibre in India quoted in US$ was also essentially unchanged at $0.206 per …. Export prices of sisal reached record highs in 2021 and 2022 and …. The Freightos Baltic Global Container Index for backhaul traffic from US West Coast ports to China (FBX02) for 40' containers, including surcharges, was $749 at the end of …. 
Free Download of the 5 page report: "DNFI World Natural Fibre Update March 2023"
Please note the download link send to you will automatically expire after 7 days.
---
DNFI members can access previous reports here: https://dnfi.org/dnfi-world-natural-fibre-updates/ 
The DNFI World Natural Fibre Update is provided by: Dr. Terry Townsend, DNFI Statistics and Data Analysis Expert.
---