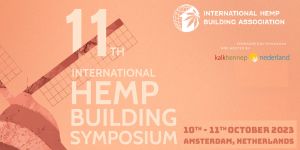 The highly anticipated event of this year is set to take place in the beautiful city of Amsterdam, drawing the attention of individuals from all corners of the globe. With a primary focus on the innovative topic of building with Hemp, the event aims to provide a unique platform for like-minded professionals and enthusiasts to come together and exchange their knowledge, experiences, and ideas.
The Symposium organised by IHBA will be held in a centrally located in Amsterdam across the water from the Nemo Museum, and situated on the thriving Marineterrein, Amsterdam. The symposium will be a hybrid event with in-person and also online participation. The event language will be English.
DNFI member Francesco Mirizzi, currently responsible for agriculture, bioeconomy and environmental policies at the European Industrial Hemp Association (EIHA) will report about the "EIHA Working Group on Hemp Construction materials".
---
Date: 10.-11. October 2023
Place: online and Kanteen25, Amsterdam, Netherlands
Download:
Organizer Site: International Hemp Building Association