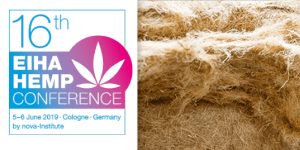 Specialists from all over the world will meet in order to exchange information regarding the latest developments in Hemp applications for fibres, shivs, seeds and oil as well as cannabinoids. Applications are biocomposites in automotive and construction, textiles, food, food supplements and pharmaceuticals. We are expecting 400 international participants from more than 50 countries.
Topics of the conference:
CBD as Food Supplement and Pharmaceutical
Hemp Seeds, Oil and Protein for Food and Feed
Fibres & Shives for Construction, Biocomposites, Insulation and Textiles
For the 2nd time, the Innovation Award "Hemp Product of the Year 2019" will be granted to the young, innovative industrial hemp industry for finding suitable applications and markets for industrial hemp based products.
---
Date: 5.-6. June 2019
Place: Maternushaus, Cologne, Germany
Download:
Organizer Site: http://www.eiha-conference.org/