(Update: 11. May 2020)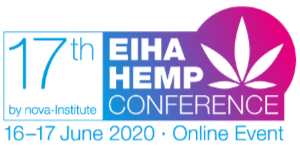 The EIHA Hemp Conference is the biggest event on industrial hemp worldwide. A new all-time record was set in 2019 with 415 participants from 49 countries and 34 exhibitors. The conference bringing together professionals from around the world to discuss the latest developments in hemp applications for fibres, shives, seeds, oil and CBD.
Applications include textiles, construction materials, biocomposites for packaging and automotive, food & feed, food supplements and pharmaceuticals. The Hemp and cannabis industry has become a multi-billion-dollar business worldwide. More than 30 speakers from leading companies and institutes have confirmed their presentations.
In times of the Corona crisis, the fast-growing hemp and cannabis sector needs exchange and discussion more than ever. Innovative industries, thought leaders and investors and should not miss this unique and high-profile online exchange in June!
---
Date: 16.-17. June 2020
Place: online as web conference
Press Release: 17th EIHA Hemp Conference (Online Event)
Partner: DNFI is partner of the 2020 event
Organizer Site: http://www.eiha-conference.org/