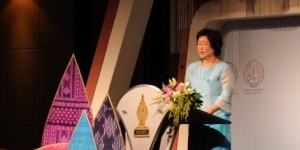 The 23rd International Congress on Sericulture and Silk Industry will be held at Hotel Leela Palace, Bangalore (India) from 24-27 November, 2014. The ISC requests that that researchers submit their scientific contributions and ensure participation in this important event for the silk industry. Silk, the ultimate natural fibre.
Note to the participants:
Apart from the Congress Events, an one-day field visit to the sericultural areas and facilities in and around Bangalore has been organised for the 2nd, 3rd and 4th day of the Congress.  The participants, according to their convenience may opt any one day for the field visit.
This apart, the participants can also underake half-a-day Bangalore sightseeing trip arranged in an AC shuttle service bus in any one day between 25th to 27th November, 2014.
Visit is also arranged to the International Exhibition on Silk Products and Buyer-Seller Meet organized by the Central Silk Board, Ministry of Textiles, Government of India.
Please note that the above visits are arranged without any additional costs.
---
Date: 24.-27. November 2014
Place: Hotel Leela Palace, Bangalore, India
Download:
Organizer Site: http://inserco.org/en/isc-congress/