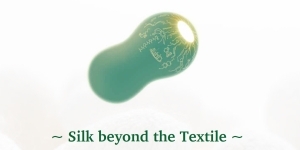 The 25. International Congress on Sericulture and Silk Industry will be jointly organized by the International Sericultural Commission and the Ministry of Agriculture, Forestry and Fisheries (MAFF). The venue will be at Tsukuba in Japan during 19th to 22nd November 2019.
Considering the enormous scope for exploring the use of silk in frontier areas, the organizers have selected the Congress Theme as "Silk beyond the Textile". Japanese scientists have taken up substantial research work on these areas and the results emanating are very encouraging. It is necessary that the Silk producing countries must catch with these advanced technologies and innovations for transforming the silk industry with multifarious opportunities.
It is the first time an ISC Congress is organized in Japan. The organizers have made elaborate arrangements for the event, including visit to historical sericultral areas and facilities, one of which is a UNSECO World Heritage site. The Congress expected the participation of about 250 delegates from 30 countries representing diverse areas of sericulture and silk industry.
---
Date: 19.-22. November 2019
Place: Tsukuba International Congress Center EPOCHAL, Tsukuba, JAPAN
Download: ISC Congress 2019 Brochure
Organizer Site: http://www.isccongress25th.org/