Conference postponed
(Updated: March 6th 2020)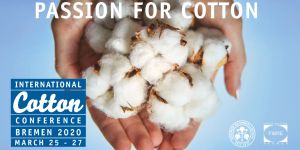 In March 2020, Bremen will once more become the centre of the world wide cotton industry. The International Cotton Conference will be taking place in the historic town hall of the hanseatic city, with the motto "Passion for Cotton!". Up to 500 participants from all continents of the world are expected, with science and trade equally represented.
The much-discussed industry topic will be the "circular economy". The Conference will be dealing with the life cycle of the natural and renewable raw material, and with material processing and testing. Transparency, traceability and environmental topics will play an important role in the presentations and panel discussions.
For the first time, a guest country will be presented at the upcoming Conference. Ethiopia has been chosen with the focus directed at a developing and emerging Country, where much has been recently brought on the way in order to further develop existing structures in Cotton growing and cotton processing in a positive way.
Moreover, there will be a Young Professionals Programme as well as meetings and Seminars of ICAC, ITMF, IVGT, DNFI, and others. In Addition "Sustain" a co located conference on topics of sustainability in production, with panel discussion on Cotton is organised by the Bremen Cotton Exchange and it's partners.
---
Date: 25.-27. March 2020 Conference postponed
Place: Bremen Town Hall, Bremen, Germany
Press Release: POSTPONEMENT OF THE 35TH INTERNATIONAL COTTON CONFERENCE BREMEN
Organizer Site: http://cotton-conference-bremen.de/