(Update: July 21 2022)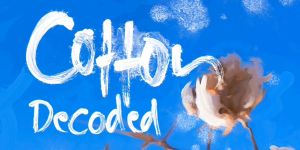 The bi-annual International Cotton Conference Bremen is where specialists from the worldwide textile supply chain come together. The conference will provide a forum for scientifically founded and practically useful new insights into key issues surrounding cotton production, cotton quality, textile processing, innovative cotton-based products and the chain connecting all.
Now taking place from 29 to 30 September 2022, the event as well as the numerous expert and association meetings will be embedded in a Cotton Week characterised by a variety of topics. Not only will the celebrations for the 150th anniversary of the Bremen Cotton Exchange take place during this week, but an anniversary book will also be presented. In addition, the programme also includes the opening of a large cotton exhibition in the Übersee-Museum Bremen (Overseas Museum).
We are looking forward to welcoming guests from the international cotton value chain back to Bremen's old Hanseatic city. With the motto
'Cotton Decoded'
we will explore cotton research as well as a wide range of topics along the entire supply chain. The hybrid cotton week provides the perfect ground for networking, business, talk politics and socializing – independently if you attend virtually or on-site in Bremen.
"Over the last years, the keynotes have emerged as an ambitious item on the programme before the actual conference programme in Bremen. First-rate experts speak about topics that move the raw material world and challenge it economically", emphasises Elke Hortmeyer, responsible for communication and international relationships at the Bremen Cotton Exchange and co-organiser of the International Cotton Conference.
On Thursday, Colin Iles, Executive Manager, Marketing Cotton & Sugar at the internationally acting raw material concern Glencore/Viterra, Rotterdam, will cast a glance into the future of cotton. His view of the developments in the global commodity markets offers important and exclusive insights to all participants.
On the second day of the conference, the keynotes will revolve around finances. John Baffes is an expert on raw materials at the World Bank Washington, D.C. and chief economist in the group "Development Perspectives" of the World Bank. Participants can look forward to fascinating insights into current economic developments from the perspective of multinational development bank.
---
Date: 29.-30. September 2022
Place: Chamber of Commerce and Übersee-Museum Bremen, Germany as well as online
Press Release: 36th International Cotton Conference Bremen
Registration: Let's decode cotton!
Organizer Site: http://cotton-conference-bremen.de/