(Update: June 18 2022)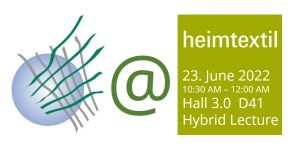 The meeting of the DNFI members in Frankfurt, originally planned for January 2022, had to be postponed due to Corona. Now that the Heimtextil trade fair can take place in Frankfurt at the end of June, it was decided to organize a smaller-scale DNFI event in Frankfurt as well.
As with all events, there is also the option to take part online.
The necessary ZOOM link is included in the press release and at the bottom of this page.
---
Natural Fibres INNOVATION – LECTURES by DNFI.org
NEW HORIZONS for Natural Fibres, Elke Hortmeyer, Chair of Discover Natural Fibres Initiative, Director communication and international relations at The Bremen Cotton Exchange
Overview of World Natural Fibre Production, Employment and Value, Dr. Terry Townsend, Data Analyst Global Fibre Markets, DNFI Steering Committee, CEO Cotton Analytics
Economic indicators and impacts of coronavirus on textile industries, Dr. Christian Schindler, Jury member DNFI Innovation in Natural Fibres Award, Director General International Textile Manufacturers Federation
The Winner of the 2021 DNFI Innovation in Natural Fibres Award, Dr. Maryam Naebe, Senior Research Fellow, Deakin University, Institute for Frontier Materials
Introduction of Previous Award Winners and updates on their research:

Winner DNFI Award 2020, Dr. Noureddine Abidi, Professor and Director, Fiber and Biopolymer Research Institute, Texas Tech University
Winner DNFI Award 2019, Dr. Debasish Das, Professor, University of Calcutta, Department of Jute and Fibre Technology

DNFI Award 2022 – Introduction and invitation to enter, Elke Hortmeyer, Chair of DNFI
Upcoming Textile Legislation in Europe and the future of Natural Fibres, Dalena White, Vice Chair of DNFI, Secretary General International Wool Textile Organisation, Spokesperson of Make-The-Label-Count (MTLC)
NEW HORIZONS for Natural Fibres – The Summary – Q&A Audience and Experts online and at Heimtextil Fairground.

---

Date: 23rd June 2022, 10:30 – 12:00 CET

Place: Messe Frankfurt/Germany, Hall 3 Level 0, D41 and online

Organizer Site: https://heimtextil.messefrankfurt.com/