(Update: Preliminary Programme, 7th August 2019)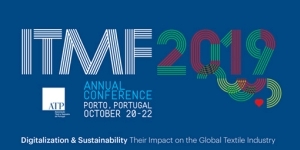 As part of this years conference the ITMF committees for spinning, for home textile, for fibres & applications as well as for technology & innovation are planed for the first and third day. The topic of the second day will be "Digitalization & Sustainability – Their Impact on the Global Textile Industry", and split in three sessions about new business models and start-up activities.
The three days conference expects a gathering of more than 200 delegates including textile industry leaders, senior government offcials, and experts from across the world.
---
Date: 21.-23. October 2019
Place: Sheraton Hotel Porto, Porto, Portugal
Download: Preliminary Conference Programme ITMF 2019
Organizer Site: https://www.itmf.org/conferences/annual-conference-2019