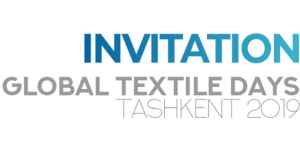 Uztekstilprom Association of Textile, Clothing, and Knitting Industries of Uzbekistan (UTC), the Tashkent Textile Machinery Exhibition (TTME) and Iteca Exhibitions Company have the honour to invite you to the capitol of Usbekistan. The Global Textile Days in Tashkent which will be held on September 10 to 15, 2019 and include the following events:
September 10: Uzbekistan Textile Conference (International Textile Conference)
September 11 to 13: UzTextile Expo 2019 International Exhibition for Textile and Fashion Industries
September 12 to 13: Fashion Festival
September 13 to 14: Production Opening Tours
Global Textile Days Tashkent events provide an opportunity to demonstrate textile industry achievements; they prove to facilitate strengthening business relations, establishing a business platform for producers and consumers, and exchanging ideas with the industry's leading experts. The International Uzbekistan Textile Conference will be devoted to the industry's latest trends, development of international textile technologies, industry digitalisation, and marketing.
UzTextile Expo 2019 Exhibition will once again showcase the achievements of Uzbek manufacturers, present new brands, and introduce new companies. There will be also a new project, Tashkent Textile Machinery Exhibition (TTME), which will serve as another platform for textile technology manufacturers. It is designed to bring together manufacturers of textile equipment from Asia, Europe, and Inter-American region and will be held once every 4 years.
Within the framework of the Fashion Festival, both famous and young designers from Korea, Kazakhstan, Kyrgyzstan, PRC, Russia, Turkey, Tajikistan, Turkmenistan, and Uzbekistan will show their new collections and share their knowledge about fashion trends. The participants of the business tours will enjoy the eventful programme providing an opportunity to learn about the potential of the textile industry in Uzbekistan and establish cooperation with Uzbek manufacturers of textiles and finished products.
---
Date: 10.-15. September 2019
Place: International Tashkent Hotel, Amir Timur Hall, Tashkent, Usbekistan
Download: Uzbekistan International Textile Conference Program
Organizer Site: https://www.textileexpo.uz/en/