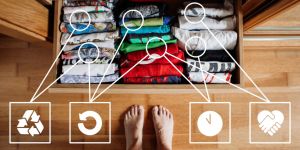 The Make the Label Count (MTLC) campaign advocates to ensure that the clothing sustainability labels the European Union plans to introduce are complete and accurate. The MTLC campaign brings together an international coalition of organisations who share an ambition to ensure the EU's clothing sustainability labels are credible.
Mandatory sustainability labelling for clothing and footwear is on the table as part of the European Union's shift to a climate neutral and circular economy. But problems with how sustainability is measured risk a loss of credibility with consumers.
Inspired by successful examples in other sectors, the EU's intent is to offer consumers information about the green credentials of clothes and shoes at point of purchase. This would in turn encourage brands and retailers to offer products that are designed to be more energy-efficient, durable, reusable, repairable and recyclable.
"Currently, however, the way sustainability is counted makes it impossible for natural fibres to receive a positive score."

"A credible sustainability label has the potential to make the industry greener and empower EU consumers to make informed choices."

says Dalena White, Secretary General of the International Wool Textile Organisation (IWTO), Co-Spokesperson for Make the Label Count campaign (MTLC) and DNFI vice chair.
MTLC and it's group of supporting organisations stands ready to work with the European Commission and the European Parliament to find the right solutions, to develop a clothing sustainability label that reflects the latest science, to inform and empower consumers to make more sustainable choices — in other words to "make the label count".
---
Date: 13 October 2021 – 11:00-13:00 CEST
Place: online event and live meeting in Brussels
Read online: Sustainability Labels Must Be Accurate and Complete if They Are to Drive Green Goals
Read online: A question of credibility — the EU's green transition for textiles
Register for free: to join the campaign launch on October 13
Organizer Site: https://www.makethelabelcount.org/