(Update: Leaflet, 26. August 2019)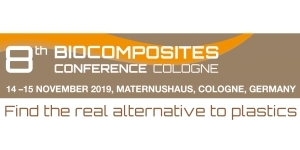 Biocomposites, especially wood and natural fibre plastic granulates, are being utilised for consumer goods such as music instruments, casings and cases, furniture, tables, toys, combs and trays. The unique look and touch convey high quality and value and are therefore well received by customers. These biocomposites offer a range of possibilities for product differentiation. The biocomposite markets continue to grow: They are stable in established markets like construction and automotive and show strong growth in the more recently developed markets for consumer goods and packaging. This provides ample opportunities for innovative applications from new players.
The "8th Biocomposites Conference Cologne" is the world's largest conference and exhibition on this topic. More than 300 participants from all over the world and 25 exhibitors are expected to benefit from the rapidly growing interest for plastic alternatives.
The Innovation Award "Biocomposite of the Year 2019" will be granted to the innovative biocomposites industry for finding suitable applications and markets. Further information are available on the organizers webpage.
---
DNFI.org is conference partner of this event.
---
Date: 14.-15. November 2019
Place: Maternushaus, Cologne, Germany
Download: Leaflet Biocomposites Conference Cologne 2019
Organizer Site: http://biocompositescc.com/
---
Additional Information: Biocomposites performing great – not only for lightweight construction
---