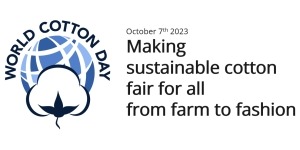 Breathable, comfortable, durable and hypoallergenic, Cotton is one of the most common textile material in our wardrobes. More than a commodity, cotton affects 28.67 million farmers and millions of families around the world. World Cotton Day highlights cotton's role in providing jobs and economic stability in the least developed countries.
World Cotton Day is celebrated every year on 7th October. On this day, the global community is invited to celebrate the world's most important natural fibre.
The Global Forum will be held in advance of World Cotton Day 2023 on 4th of October 2023 at the Vienna International Centre in Austria. World Cotton Day 2023 is jointly organized by the United Nations Industrial Development Organization (UNIDO) and the Food and Agriculture Organization of the United Nations (FAO), in cooperation with the World Trade Organization (WTO), the International Trade Center (ITC), the United Nations Conference on Trade and Development (UNCTAD) and the International Cotton Advisory Committee (ICAC).
The Discover Natural Fibres Initiative itself was launched in January 2010 as a result of the International Year of Natural Fibres 2009, proclaimed by the United Nations General Assembly. DNFI serves as a platform for information exchange, including statistics on fibre production and use, and by raising awareness of the benefits of natural fibre industries to the world economy, to the environment and all consumers. DNFI is recognised by FAO and listed on its website as a Natural Fibres Advisor and encourages future cooperation and projects between natural fibre organisations.
---
Date: 7 October 2023
Place: online and around the world
Register for: Global Forum on 4 October
Organizer Site: www.worldcottonday.com