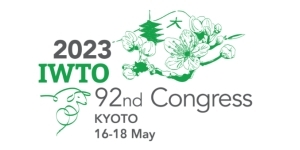 We look forward to meeting in person in Kyoto from 16 to 18 May, as guests of the Japan Wool Industry Association, with Mr. Tetsuya Motohiro acting as Congress Director and Mr. Shinichi Ichii as Congress Coordinator. The organising committee has approved the attached programme, also available on the IWTO Event Page.
Congress registration will be available from mid-February onwards and we thank the committee for their support and seamless arrangements thus far.
The annual IWTO Congress has welcomed more than 120 junior industry members through the Young Professional Programme since 2012. We are happy to launch the call for submissions to join the flock in Kyoto this May! As we've lost meeting opportunities during the pandemic, we open the age group to 35 + 2 Years for the 92nd Congress.
---
Date: 16.-18. May 2023
Place: Kyoto, Japan
Download: Agenda IWTO Congress Kyoto 2023
Video: Preview of Kyoto, location for the 2023 IWTO Congress
Organizer Site: https://iwto.org/congress-2023/