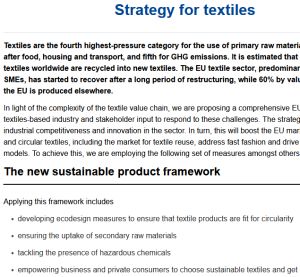 DNFI is composed of individuals and organizations from around the world who voluntarily and independently share information about natural fibres. Currently the EU is preparing its sustainable textile strategy. This strategy will help the EU shift to a climate-neutral, circular economy where products are designed to be more durable, reusable, repairable, recyclable and energy-efficient.
As natural fibres are important to us, DNFI strongly encourages members and stakeholders to participate in the formation of the EU strategy by responding to an on-line survey. Your response will support current efforts to improve the EU's Product Environmental Footprint (PEF) methodology. Whilst PEF has good intent, the methodology is immature and does not yet provide the full picture about textile product sustainability. If PEF is introduced in the current form, it could cause bias and favour textiles made from fossil fuel-based fibres.
Together with other advocates of natural fibres, we hope to create a strong groundswell of response about these concerns. In the absence of substantial public and industry engagement, the European Commission is likely to conclude that the current methodology is acceptable. The proposed labelling will reduce demand for Cotton, Wool and other natural fibres.
Submissions to the EU can be made until 4th August 2021 CEST online: here
Some of the concerns mentioned by the natural fibres community include:
PEF methodology focusses on measuring the negative environmental impacts of textiles but makes no attempt to measure or reward positive impacts such as renewability and biodegradability.
Cotton, Wool and other natural fibres are sustainable because they can be regrown year after year (wherever the rain falls and sun shines) but this is not true of fossil fuel-based fibres. PEF gives no positive score for 'renewability'.
Similarly at the end-of-life, natural fibres biodegrade returning their nutrients to the soil for use again but PEF scoring does not reward this inherently circular attribute of natural fibres. By contrast synthetics do not biodegrade – they clog up the world's landfills indefinitely or are incinerated, releasing fossil carbon into the atmosphere, contributing to global warming.
In addition to overlooking the positives of natural fibres, PEF scoring ignores important negatives of synthetics, such as the release of microplastic fibres to the air and water and their take-up by the food chain.
---
Download: Roadmap EU Sustainable Textiles Strategy
Download: Product Environmental Footprint (PEF) Guide
---
EU Single Market for Green Products Initiative
The Environmental Footprint Pilots
The development of the PEF and OEF methods
---