(Updated: March 15 2022)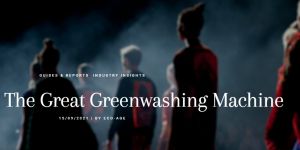 In the first of what will be a series of reports by Veronica Bates-Kassatly, together with Dorothee Baumann-Pauly, she questions the sustainability efforts of fast fashion retail brands. "The Great Green Washing Machine Part 1" is a fact-based exposé of the multiple failures of sustainability efforts by major fashion brands. The authors are objective, thorough, and rigorous in their research.
Dr. Terry Townsend a DNFI member offered support during the research phase and said:

"For more than a decade, brands and retailers have been promoting the supposed 'sustainability' of fossil fibres.

They have ignored the impacts of fossil fuel extraction and processing, the impacts of microfibre pollution, the proliferation of non-biodegradable waste and the social impacts of natural fibre production.

Brands and retailers do this because fossil fibres are cheaper than natural fibres."
Everyone who supports natural fibres will appreciate the work of Kassatly and Baumann-Pauley in exposing the hypocrisy, cynicism and self-interest that undergird the growth of fossil fibre production and use.
---
External Site: https://eco-age.com/resources/report-greenwashing-machine
Download White Paper: The great green washing machine part 1: "Back to the roots of sustainability"
Link to: Fashionscapes: A Circular Economy (with a 17 minute video about the report)
Link to: The Great Greenwashing Machine, Part 2 (Update: March 15 2022)
---
(Updated: October 12th 2021)
Why making clothes from plastic bottles will not solve fashion's waste crisis
---