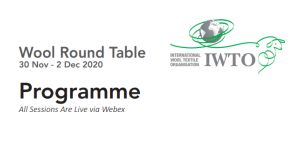 IWTO's 2020 Wool Round Table offers a unique spin on the digital conference with four live Chat Rooms. Participate in real time across borders and time zones with Wool industry leaders from around the global supply chain.
The unique two day event starts with meetings of two IWTO working groups followed by the Chat Room Europe on Monday, 30 November 11:00 – 12:30 CET (GMT+ 01:00). Topic: "Wool in Europe – Our experiences during the past 12 months and potential pitfalls and opportunities identified for the next year" with panel speakers from Italy, UK and Germany.
Depending on the time zone the Chat Room USA follows at Monday, 30 November 19:00-20:30 CET (GMT +1) (EST -5). The Chat Room Australia is planed for Tuesday, 1 December 09:30-11:00 CET (GMT +1) (AEST +10) together with one digital working group meeting. The last two working groups meet also online on Wednesday, 2 December with the Chat Room China at 09:30-11:00 CET (GMT +1) (CST +7)
Registration for the Chat Rooms will be limited.
---
Date: Monday, 30. Nov. to Wednesday 2. Dec. 2020
Place: online – digital event
Download: Programm Wool Round Table 2020
Organizer Site: https://iwto.org/round-table-2020/