(Updated: November 5th 2021)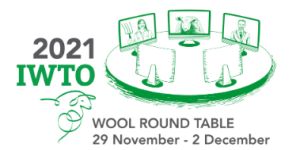 This international four day event will be held digital due to the continuing pandemic situation. Besides technical discussions in the Product Wellness and the Wool Trade Biosecurity working groups, Wool Sheep Welfare will, as always, be high on the agenda. IWTO and its members and guests will present the latest market statistics, explore logistics and the way in which wool can rebound after Covid.
On the first day the Executive Committee Meeting as well as the Sustainable Practices Working Group will meet online. Day two is foreseen for the discussions in the chat rooms China, Australia and Canada followed by the chat room New Zealand on the third day. The digital meeting for the region Europe and South Africa are planned for the last day together with the final meeting of the Wool Sheep Welfare Working Group.
The entire agenda is available for download below for those interested.
---
Date: 29 November – 2 December 2021 / All times CET (GMT +1)
Place: online – digital event – sessions are live via Webex.
Download: Agenda Wool Round Table 2021
Organizer Site: https://iwto.org